Content of the article
Goderich's Zero Gravity Dance Company has participated in five competitions over the past year.
Content of the article
With 30 girls in the company's Novice and Competitive Team, the dancers range in age from seven to 18.
Competitions included ithe Dance Attack in Kitchener, Xtreme Dance Champions in Huntsville, Dance Canada in London, Dream to Dance in London and Bedazzled in Collingwood.
At Dream to Dance, the Goderich studio ensemble won both the Novice award – dancers performing on stage for the first time – and the Best Competitive Studio award.
"It was quite an achievement. All of our studio routines were the highest in the competition," the staff said.
Local company dancers have achieved high scores in all competitions with their solo performances, duets and group routines in various genres including acrobatics, tap, jazz and contemporary. The Zero Gravity dancers earned the highest score of any dancer in their category, including the 12-year-old solo.
Content of the article
Nearly 600 different routines were performed at this particular competition.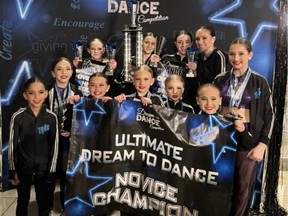 Each competition varies by participating studios, and there are between six and 15 studios at each competition, with a combined total of routines around 500 to 1,500.
Company director Shauntell Schwartz is a certified British Association of Teachers of Dancing teacher and has been teaching for over 20 years. Schwartz grew up dancing competitively and always knew she wanted to teach dance.
A highly sought after teacher and choreographer, her students have achieved many things including BATD scholarships, attending the National Circus School in high school and college in Montreal, and being selected to the World Performers Canada team.
Content of the article
All of the company's teachers are certified and offer high-level technical education.
For anyone wanting to try a dance lesson, the company offers recreational lessons for those who want a dance lesson once a week who perform at a local recital but do not compete.
There are also pre-competitive classes for those who want to dance less than six hours a week but still want to experience dancing on stage in three different competitions.
Zero Gravity Dance Company also offers competitive classes for those who take seven or more hours of dance per week and attend five different competitions.
No experience is necessary to start taking a course at the Goderich studio. There is a small retail store stocked with all dancewear needs. Once enrolled, all students are required to adhere to the studio's dress code.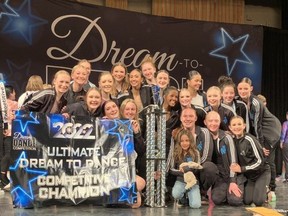 For pre-competitive and competitive teams, students must audition for a spot. Pre-competitive auditions on June 28 from 5-6 p.m. for anyone ages 6-13, and competitive auditions on June 22 from 5:30-7 p.m. for ages 10-19.
Following the success of the season, the company has always had students win overalls with their routines, but this is the first time that our studio has won the award for best studio in novice and competitive.
"Seeing them win both categories at once was very exciting," studio staff added.