Content of the article
Based on several top five performances from local dancers, Port Elgin's SB Dance Academy won the Top Studio award in a competition at the Deerhurst Resort in Huntsville on April 20-21 that featured clubs from Georgetown , Richmond Hill and Midland.
Content of the article
After a "difficult" dance season due to the pandemic, the dancers were "happy to be on stage" in the final competition, according to Sandra Bélanger, owner of SB Dance Studio.
"It was a really great team effort with great dancing and wonderful choreography," Belanger said in a May 2 phone interview, adding that the season's hard work resulted in the top five. results in the junior, intermediate and senior categories in several dance styles, including jazz, contemporary, lyrical, acro and hip hop.
Lindsay Ross, competitive team leader and choreographer at SB Dance Academy, won the choreography of the session award for her acro number "Let It All Go."
"The judges loved the flow and the use of the stage and the smooth transitions," Ross said in a May 2 phone interview, adding that it was great to see the dancers compete so well, especially after closures have canceled competitions for the past two years.
Competition highlights include:
High score of the day: Senior jazz group, "Vogue" with Addison Kaake, Addison Hoffman, Alivea Vance, Aarelyn Wade, Amellea Deschambeault-Havaris, Gabby Vance, Olivia Austin, Lyndsey VanSickle, Madison Playter and Poppy Munro.
Best score of the session: Junior Open Group, "Up To" with Brooklyn Lammie, Summer Reilley, Sophia Tsatsos, Kaelynn O'Brien and Addison Kaake.
Best solo score of the session: "The happiest year" Olivia Austin
Junior solos – 2nd, 4th and 5th overall: Lyla Roote – Acro, Addison Kaake – Lyrical, Summer Reilley – Open
Content of the article
Intermediate Solos – 1st, 2nd, 3rd and 4th overall: Olivia Austin – Open, Gabby Vance – Acro, Kaelynn O'Brien – Acro, Sophia Tsatsos – Open
Intermediate Duos/Trios -: 1st overall: Olivia Austin, Gabby Vance – Acro
Senior solos – 2nd and 4th overall: Poppy Munro – Contemporary, Lyndsey VanSickle – Acro
Session Choreography Award : "Let it all go" – Lindsay Ross
Earlier in the season, SB Dance Studio dancers won numerous awards competing at Mississauga's Kick It Up, Collingwood's Dance Canada, Collingwood's Bedazzled and Huntsville's Xtreme Dance Champions.
All dancers will take to the stage at the annual Season Ending Fun Dance Recital on May 6 at 6:30 p.m. at Saugeen District High School.
The public is welcome. Adult tickets are $10, children under five are free.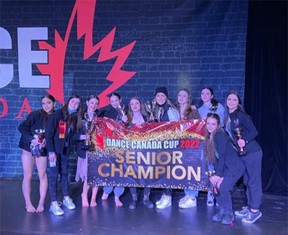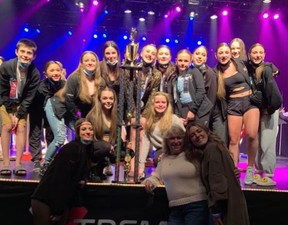 Some of the SB Dance Academy team members who helped the Port Elgin club win the Top Studio Trophy at the Xtreme competition April 20-21 in Huntsville included, top left: Jack Cameron, Addison Kaake, Aarelyn Wade, Poppy Munro, Addison Hoffman, Ava Cameron, Summer Reilley, Gabby Vance, Olivia Austin, Kaelynn O'Brien and Madison Playter. Middle: Aliea Vance and Lyndsey VanSickle. Front: Paige Wade, Sandra Bélanger and Lindsay Ross. [Submitted]